The best RTD protein shakes on the market today are ones that have all the nutritional value busy athletes expect with a taste that won't make them gag. Ready to drink protein shakes are the busy athlete's best friend. Sometimes there isn't time to put a meal together or to blend all the ingredients for a protein shake. Ready-to-drink protein shakes are the solution to this time crunch by providing high-quality protein and nutrients ready for consumption whenever you need them!
If you're a heavy exerciser, don't eat enough protein, or follow a vegetarian or vegan lifestyle, protein shakes can help fill in nutritional gaps in your diet, says dietitian Lisa Moskovitz, RD, CDN, and CEO of NY Nutrition Group.
Luckily we have listed our top 5 best rtd protein shakes on the market today. Take a look at our in-depth analysis below:
The top five best RTD protein shakes we suggest to try today:
3) Muscle Milk Genuine Protein Shake
5) Optimum Nutrition Gold Standard Protein Shake
Continue reading below to get our take on each of these in detail
The benefits of RTD Protein Shakes
Ready-to-drink protein shakes are a great way to get the protein you need in your diet. When it comes to best rtd protein shakes, as an added bonus, many of the RTDs also include essential amino acids, electrolytes, and vitamins/minerals that can help get you through your daily grind.
Here are 5 benefits of adding best RTD protein shakes to your diet:
#1. Get the protein you need by drinking an RTD Protein Shake instead of, or in addition to food, can help you get your daily intake of high-quality proteins like whey and soy.
Whey proteins are known for their ability to support muscle growth and repair (and it's also great after an intense workout). Soy proteins contain compounds that help promote calorie burning and more fat loss. Plus, soy is rich in omega-3 fatty acids which can also be effective at reducing body fat.
#2. Having more protein in your diet can result in more muscle mass, better weight management, high energy levels, improved satiety, and more.
#3. The protein in Ready-to-Drink Shakes is quickly absorbed by your body which can help you manage hunger between meals.
#4. Replenish Electrolytes   Drinking an RTD Protein Shake with added electrolytes is an excellent way to rehydrate after a tough workout or if you're suffering from diarrhea, vomiting, or a hangover.
#5. Get an energy boost Drinking an RTD Protein Shake can be your secret weapon to getting more out of your daily routine. Adding protein to your diet can help maintain stable blood sugar levels, increase the thermic effect of food (energy needed for digestion), and promote weight loss.

When the best time is to consume ready-to-drink protein shakes?
We all know it's important to eat right after a workout, but in our busy lives we can forget to grab the RTD shake before we leave for the gym and we don't go straight home afterward. Did we lose out on some gains now? … Not necessarily.
Experts recommend 25 to 30 grams within 30 minutes of finishing your workout. Protein content can vary depending on factors such as body weight or dietary restrictions. But these drinks provide more nutrition than other foods at this small amount of time.
Although the most optimal time to consume protein is within 30 minutes of finishing your workout, multiple studies have shown that just an increase in overall protein levels on a regular basis will help the body regenerate at a faster, more complete pace regardless of the time of consumption.
If you're looking to add more protein into your diet because you are working toward building muscle mass or just simply trying to stay fit, the bottom line is having a consistent diet of higher than average protein intake will get you there. Making sure you have the best rtd protein shakes at arms reach will make it so you are never in a protein deficit.
Ready-to-drink protein Pros and Cons
Pros:
Some ready-to-drink protein comes by way of soy, dairy, or another alternative protein source which gives a lot of options for different dietary needs.
They're convenient: just grab and go! No need to fuss with trying to mix a powder into water and get clumps or spillage.
Cons:
Some shakes are high in sugar content have a lot of artificial flavors or sweeteners, which some people prefer to avoid.
Lack of hunger control on an empty stomach can lead to overconsumption, resulting in weight gain.
Protein drinks are not meant to replace whole foods in your diet, so it's important to consider what other nutrients you may be missing when drinking a protein shake. Even the best rtd protein shakes on the market are not a cure-all. Make sure to visit your doctor for an overall health assessment or talk to a registered dietitian if you have more questions about how much protein is right for you.
Top five best RTD (Ready To Drink) protein shakes to try now:
To help you to take the guesswork out of choosing a high-quality shake on the go we have listed our top five below.
No matter if you are an elite athlete, amateur crossfitter, or just the occasional gym junkie; there is a ready to drink protein shake made for you. These best rtd protein shakes are rated on a lot of different factors and they are not in any particular order.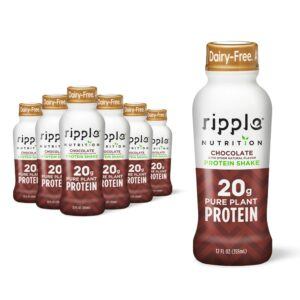 Ripple exists to make dairy-free as it should be: high in protein, low in sugar, loaded with nutrition and delicious. We think good food should be simple. And for food to be good, we think it needs to taste great, nourish your body and leave a small footprint on the planet.
Ripple has 8x the protein of almond milk and half the sugar of dairy milk. It's high in bioavailable calcium (50% more than milk), potassium and provides a good source of omega-3s. It's lower in calories than milk and best of all, it has the creamy, delicious texture we think our dairy-free friends are missing.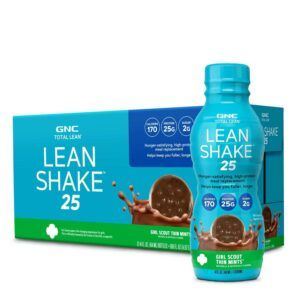 For a ready-to drink protein shakes for weight loss you cannot go wrong with GNC TOTAL LEAN® LEAN SHAKE™ 25. Making sure you get enough protein every day is manageable when you drink the GNC TOTAL LEAN® LEAN SHAKE™ 25 and this protein shake, which comes in five delicious flavors, including Swiss Chocolate and Banana Cream, containing more than 20 essential vitamins and minerals to support your weight loss journey.
Clinically proven as one of the best RTD protein shakes for weight loss, and improve BMI, the GNC Total Lean® Lean Shake contains ingredients such as 5mg iron,100 mg magnesium, and 5mcg vitamin D, and it contains only 170 calories per serving.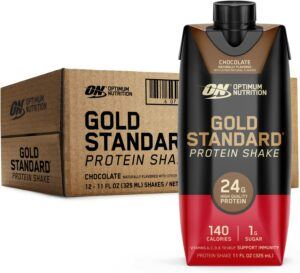 Gold Standard 100% whey blend is 24 grams of blended protein consisting of whey protein isolate, whey protein concentrate, and whey peptides to support lean muscle mass.
It includes over 5 grams of branch chain amino acids(BCAA) to help build lean and strong muscles. High-level nutrition stats are as follows: 7 grams of carbs, 2 grams of sugar, and 2 to 4.5 grams of fat(depending on flavor). They are gluten-free and growth hormones-free.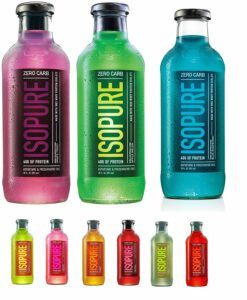 Nature's Best Perfect Isopure is the only one of its kind that is packed with 40 grams of 100% pure whey protein isolate and 100% awesome taste; 160 calories and 10.2g of BCAA's in every bottle. 
Made with protein so pure you can't see it, the microfiltration process used to create Isopure Protein is so complete it creates the only completely clear milk protein when dissolved in water. Not to mention it's lactose-free and gluten-free, so you can better your body without discomfort.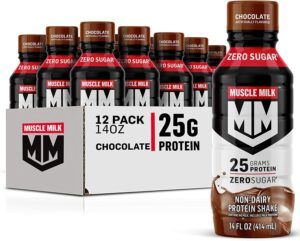 Muscle Milk offers quality you can trust. Our Genuine protein powder supplies your body with high quality protein to support post-workout recovery and muscle growth, or can be consumed as an energizing breakfast or snack that helps satisfy hunger.
It provides a combination of high-quality slow releasing and fast releasing proteins to help increase amino acid levels. These essential amino acids play a role in muscle growth and maintenance of muscle mass. The formula is also NSF Certified for Sport.
In Summary
It's important to have a high-quality protein shake on the go, but there are so many different options we know it is hard to make heads or tails of all the various aspects of what to buy and what to stay away from. We all know we need to consume protein and stay healthy, but many of us don don't understand whether it should be a quick shake or a full meal.
The best options out there are those that offer high-quality ingredients and nutritional benefits without sacrificing taste or the filling power you need. We hope this article has helped narrow down your choices and given you some insight into what could work best for your muscle recovery needs.
Please comment below and tell us which one you have tried or which one you plan to try next!